Ok, so most people are complaining about how season 7 went/ended, if you could have redo season 7, what would you do?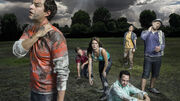 I personally think it wasn't that much a surprise, but it felt very awkward in the Golden Tate scenes, dude shouldn't start acting, lol.
Wish it hadn't ended at all to be honest.