A Taco-term to describe when two people have had sex with the same person.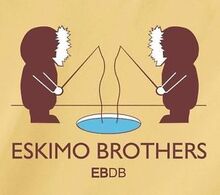 This concept was the foundation of many if the TacoCorp ideas, such as the EBDB (Eskimo Brothers Database) and the EBDBBnB (Eskimo Brothers Database Bed and Breakfast), amongst others.
| Eskimo Brothers | Who they had sex with |
| --- | --- |
| Pete, Kevin, Taco, Ruxin's dad | Heather |
| Pete and Rusell | Emma |
| Kevin, Kale, Ben | Jenny |
| Pete, Andre and Ted | Meegan |
| Pete and Taco | Sutton |
| Pete and Adrian Peterson | Gina |
Ad blocker interference detected!
Wikia is a free-to-use site that makes money from advertising. We have a modified experience for viewers using ad blockers

Wikia is not accessible if you've made further modifications. Remove the custom ad blocker rule(s) and the page will load as expected.