Season 2 of The League first aired on FX September 16th, 2010. It was written by Jeff Schaffer and Jackie Marcus Schaffer, and directed by Jeff Schafer. The series centered around a Fantasy Football league consisting of five men, Pete, Ruxin, Kevin, Taco and Andre, and their lives.
The Second season of
The League
was the first to run for thirteen episodes, and the last was aired December 9, 2010.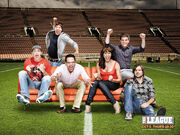 Characters
Episodes
Behind the Scenes